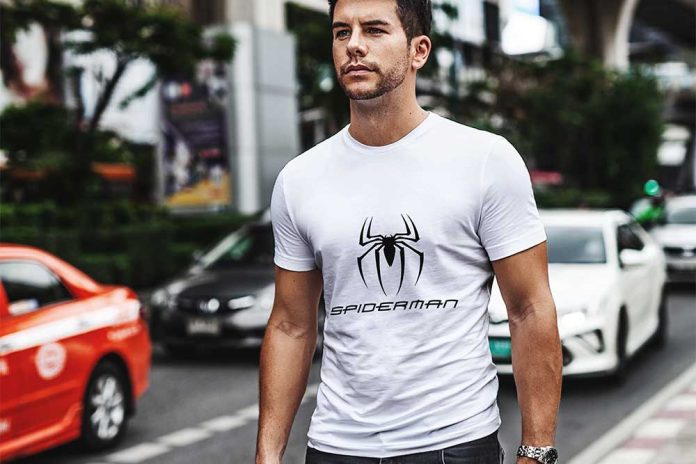 The classic tee is a staple for any man's wardrobe. But it's important to find one that fits right and feels great.
This tee by Vancouver-based DUER hits the sweet spot, with a fit that's flattering but not tight, and stylish but not faddish. It's also soft, breathable, and built to last.
Crew neck
The crew neck is the classic t-shirt style that's worn by men everywhere. Its rounded, circular neckline looks great on men with narrow faces and sloped shoulders. It also helps to create the illusion of broader shoulders and chests.
The Vancouver-based brand DUER makes an ultra-soft long sleeve crew neck shirt in Pima cotton/Lyocell/nylon that fits perfectly and looks sleek. Pair it with their No Sweat pants for a cold weather outfit that's comfortable and stylish.
V neck
The V neck style has a distinct look that separates it from other types of men's t-shirts. The design has an intended purpose, too – it works well under shirts and sweaters to prevent the top of the shirt from sticking out.
If you have money to burn, Brunello Cucinelli makes some of the best v-neck tees out there. Their silk-cashmere tees are expensive, but the comfort is worth it.
Henley
Almost like a polo, but with three buttons, the Henley is a great choice for casual looks. It can be worn as a base layer under a suit or with jeans. It's also a good option for guys who want to look more stylish.
Henleys are often made from cotton, but merino wool adds a touch of class. Clothemakers like Closed use it in their menswear line because it's comfortable, thermoregulating, and adds a hint of elegance.
Henleys are a staple for every man's wardrobe. You can choose from long-sleeved and short-sleeved styles.
Polo
Men's polos are great for casual wear. They work well with jeans and chinos and can be dressed up with a blazer. You can also choose a striped or printed version to make your statement.
Choose a shirt that fits well in the sleeves. A good rule of thumb is that if you can stick your finger between the bicep and the sleeve, it's a good fit.
Try a long-sleeved pique polo, or go for a sweater-style wool knit. Be sure to avoid polo shirts with poppered collars, as these read as douchey.
Scoop neck
When it comes to shirts, men have plenty of choices. Whether they want to go casual or sporty, there are many different styles to choose from. These t-shirts are made with breathable fabrics that allow airflow and prevent overheating.
When shopping for a new T-shirt, consider the style and fit of the shirt. Look for a flattering fit that suits your physique and personal style. Also, check if the shirt offers longevity and a range of sizes.
Sleeveless
A sleeveless shirt is a t-shirt manufactured without sleeves or with its sleeves cut off. They are usually made from thin fabrics for comfort. They are often worn as undershirts or by athletes during sports, and they are also popular as casual wear.
Sleeveless shirts look best on men with narrow shoulders and chiseled physique. Men can also flaunt their gym toned biceps in body-hugging muscle fit tees. A plain sleeveless shirt can also be paired with blue jeans and sneakers.
Cap sleeves
A cap sleeve shirt is a style that covers the shoulder but does not extend down to or under the arm as long sleeves would. This style can help you create a V-shaped silhouette, especially if you have toned biceps and triceps.
Psycho Bunny offers some unique, singular T-shirts that fall squarely on the streetwear side of things but with elevated tailoring and attention to detail. They also offer a range of colors, including black.
Dye-sublimation is a digital printing process that enables designers to print full-color artwork onto polyester and polymer-coated synthetic fabrics. It is more economical than screen printing and has fewer setup costs.
Half sleeve
A half sleeve style of men's T-shirt is a staple in any wardrobe. Its simple silhouette makes it a great choice for layering over a chore jacket or cropped blouson. It also works well with workwear-inspired pieces like a Breton jersey.
This casual t shirt for men features blue and sage green stripes, a ribbed neck trim, and organic cotton jersey. It's perfect for hypebeasts and human males who want to look stylish in their everyday outfits.
These types of t-shirts are a rage in hot areas because they save the arms from sun tan. They can be teamed with any kind of lowers and can be worn even for formal occasions when paired with a blazer.men's bamboo t-shirts