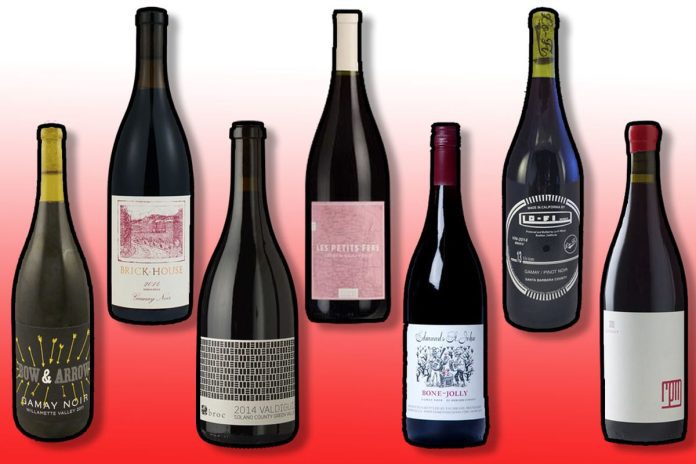 Gamay is a light-bodied red grape that is becoming increasingly popular in cool climate regions. Its flavor profile is reminiscent of Pinot Noir, but with less tannin and higher acidity.
The best Gamay Wine are sourced from the French region of Beaujolais. However, the variety is also finding success in other parts of the world, including Switzerland and Canada.
Winemaking
Gamay is a light-bodied red wine that is easy to drink. It is made by fermenting whole grapes in a sealed tank filled with carbon dioxide, which allows the grapes to release natural flavor compounds and minimizes tannic content.
It is one of the most popular grapes for making Beaujolais wines, but can be found in many other wine regions as well. Some of the most famous Gamays come from the 10 villages that make up Beaujolais, including Fleurie, Morgon and Moulin-a-Vent, but others, such as Julienas, Chiroubles and Brouilly, are also worth seeking out.
Gamay is light in body and high in acidity, which makes it the ideal partner for a wide range of foods. It goes especially well with white and red meats, but also meatier fish such as salmon or tuna.
Flavors
Gamay is a red wine that has a delightful, refreshing, and lively acidity. This makes it a great drink for food pairings.
It is also known for its fresh red fruit flavors and aromas that are often reminiscent of candy. This is primarily due to a fermentation technique called carbonic maceration.
This is a process that sees whole bunches of grapes placed in a container and then filled with carbon dioxide. It is then left to ferment for about four to eight days.
The result is a wine that has an extremely fruity and candied aroma and flavor, as well as a bright acidity. This is a perfect wine to pair with foods that have red fruit, such as cranberry and strawberry.
This is a great variety for those who enjoy drinking Pinot Noir and want to try something new. It can be enjoyed as a drink-right-away wine or one that is more suited to aging.
Pairings
Gamay wine pairs well with a broad range of foods. Because of its high acidity and low tannin, it can pair with fish dishes, salty caramelised food like roast chicken, and aged cheeses.
This light bodied red is often a favourite of sommeliers and wine lovers who enjoy a lighter, fruity red wine. It is particularly suited to herb or spice-focused meat dishes, such as herbed roast chicken with dill potatoes and chimichurri steak with cinnamon-dusted squash.
It is also a great match for grilled or roasted vegetables and salads. The lively acidity works well to complement the flavors of certain vegetable dishes, such as roasted delicata squash with cranberry and cinnamon or butternut squash soup.
Gamay wines are most often made via a process called carbonic maceration, which involves placing whole bunches of grapes in a sealed tank filled with carbon dioxide. This method allows for fermentation to occur within the grapes, eliminating the need for yeast and resulting in fresh-tasting, lower-tannic wines with fruity aromas.
Storage
Gamay Wine is a light-bodied, fruity wine that can be enjoyed on a variety of occasions. It has high acidity and low tannin, which make it a good choice for pairing with many different dishes.
Because of this, it is important to store Gamay correctly. This will help to maintain the wine's flavors, aromas, and balance.
When storing Gamay, the best temperature for it is between 50 and 55 degrees. Temperatures that are too high can cause the wine to age too quickly, which will diminish its flavor and aroma.
Those who want to emphasize the grape's natural fruitiness and soft approachability will opt for carbonic maceration, which essentially sees the whole grapes sealed into a vat and filled with carbon dioxide. This allows the berries to burst naturally, releasing more juice into the bottle. This process also enables the flavors of the fruit to shine through, giving a vibrant character and youthful elegance.