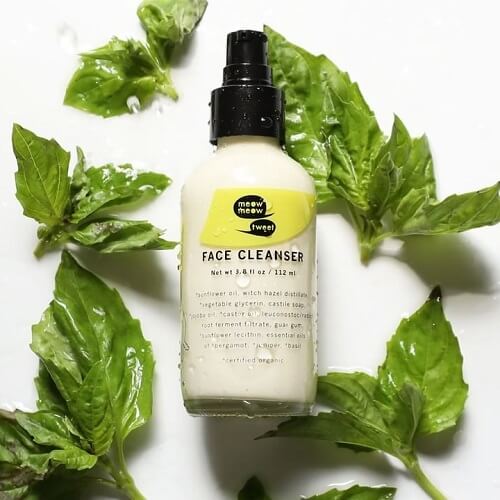 Vegan skin care uses plant-based ingredients that are better for your skin than chemical irritants. It also benefits animals and the environment.
Look for products that are labeled both vegan and cruelty free. You can check the ingredients to see if they contain any animal products or byproducts like honey, beeswax, lanolin, gelatin, and collagen.
Banish All Clear Mint Cleanser
For acne-prone skin, this gentle gel cleanser is just what you need. It's made with a blend of natural plant-based ingredients, including chamomile leaf extract to reduce inflammation and antibacterial botanicals to fight breakouts. The result is a refreshing cleanse that's suitable for oily and normal to dry skin types.
Founded in 2010 by Daisy Jing, Banish was inspired by her experience with acne and acne scarring. She wanted to develop a skincare line that skips the temporary fixes and actually helps fade acne scarring, textured skin, and discoloration for good.
The brand develops small-batch, vegan, and natural acne-fighting formulas that are housed in recycled glass packaging. The All Clear Mint Cleanser is one of their bestsellers, and it contains soothing, calming, and anti-inflammatory plant-based ingredients like aloe, cucumber peel extract, peppermint, and spearmint oils. The cleanser also contains hydrating shea butter and anti-inflammatory, antioxidant-rich cranberry seed oil. Banish is also completely cruelty-free and vegan.
Heimish All Clean Balm
This vegan cleansing balm from Heimish has become a fan favorite since it was launched in 2016. It is a solid cleanser that turns into a silky oil when massaged on the face. It effortlessly removes makeup and sunscreen without stripping the skin of its natural oils. It also contains shea butter and botanical flower extracts to nourish the skin while it is being cleaned.
The packaging is pretty cool as well. It comes with a flip-up lid that has a plastic hygienic layer protecting the actual product. It also comes with a spatula for easy application and no mess.
It is very similar to the Korean brand Clean It Zero in terms of texture – it feels a little firmer when you scoop it up from the container but melts in your hands. It also doesn't have any mineral oil or parabens like Clean It Zero does. It does have a strong herbal scent though.
The Body Shop Aloe Vera Soothing Gel Cleanser
The calming formula of aloe vera soothes and moisturizes sunburnt skin, leaving it soft and smooth. The scent is refreshing and light, making it perfect to slather all over your body after a steamy summer day.
Aloe Vera Soothing Gel Cleanser has a cool and refreshing gel texture that absorbs quickly. It contains 99% aloe barbadensis leaf extract from Jeju Island to help calm skin, while shea butter and glycerin moisturize and protect against dryness.
Sensitive skin needs a soothing skincare routine that maintains your skin's natural hydration to avoid itching, redness, and irritation. Aloe Vera Soothing Gel has restorative allantoin to prevent dryness, while shea butter and glycerin hydrate. Spritz this on as a soothing face mist and moisturize your lips with this hydrating lip balm.
The Body Shop Coconut Oil Cleanser
Coconut oil has taken the beauty world by storm. It's a popular kitchen staple and has been featured in countless beauty products from hair oils to body moisturizers. But is it as good for the skin as everyone says?
Its high concentration of Lauric acid is deeply hydrating to the skin layers and has antibacterial and antifungal properties. It also contains fatty acids that help to protect the barrier and lock in moisture.
In addition, this cleanser is free of questionable toxins like Parabens, Phthalates, Sulfates and Triclosan which can cause extra stress on the skin. It's best used as part of a double cleansing routine to break down the makeup, dirt and other impurities that accumulate on the face. It can also be used to remove stubborn waterproof mascara and eyeliner. Just liquify in your hands and apply to the skin using a gentle circular motion. Rinse away with water and follow with a light moisturizing toner.