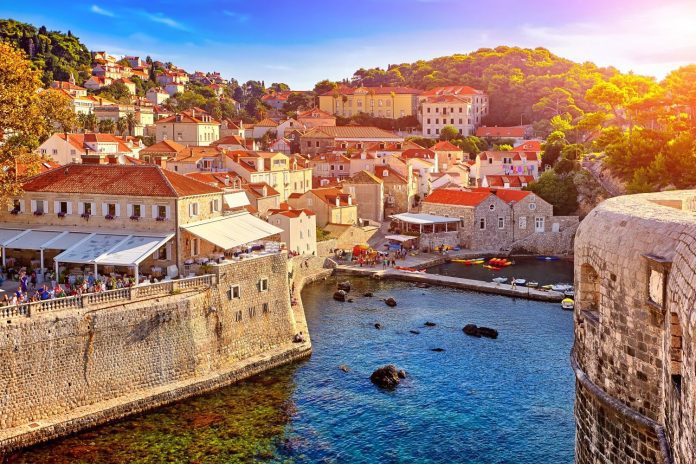 Whether you're a history buff or a nature lover, there's plenty to explore in Travel in Croatia. Plan your trip during the warmer months, when all of the best attractions are open and most crowds have dispersed.
Get your bearings with a tour of Diocletian's palace in Split, or get lost in the UNESCO World Heritage–listed Old Town of Rovinj.
Beaches
Whether your idea of a beach is one with shallow waters where little ones can play safely or a rocky shoreline where you can stretch out on a towel and take in the views, Croatia has beaches to suit every style. The country's most famous shoreline—Brac Island's Zlatni Rat—stretches like a lizard's tongue into the blue sea and constantly shifts shape and color with changes in tide, current, and wind.
More family-friendly beaches can be found on the southern coast of the Dalmatian peninsula, where rocky coves offer sheltered spots and swaths of sand are nestled in between. The rugged southern coastline of Dugi Otok—the gateway to the Kornati Islands—is a top spot for sunbathing thanks to its fine, soft pebbles and deep-blue waters.
Pag Island's Zlatni Rat is a crowd-pleaser, too, but you'll find even more gorgeous and uncrowded beaches at places such as Seline, whose 1.8km of both sand and gravel feel like a paradise. The water is calm here and there are plenty of beach bars that offer refreshing drinks, snacks, and live music. If you want to stay near the beach, try the 4-star Hotel Kaneo, which is just a short stroll away from this stunning shoreline. It also has a hot tub and a sauna. Its apartments are perfect for families with kids and feature free WiFi, flat-screen TVs, and private bathrooms.
Cities
Croatia's cities make a perfect complement to the country's beautiful beaches and stunning natural scenery. These cities are a blend of rich history and culture with cozy street cafes and hip bars.
Dubrovnik is a UNESCO World Heritage Site that's a must-see for any traveler. This gorgeous city is best enjoyed during the shoulder season before it gets flooded with tourists from cruise ships and other day trippers. It's also a bit more wallet-friendly than other popular European destinations during the high season.
Sibenik is another must-see Croatian city that's less crowded than Split or Dubrovnik. Here, you can enjoy a picturesque old town with winding stone alleys that are a delight to explore. You can also take a guided tour to visit Krka National Park, home to the beautiful Skradinski Buk and Roski Slap waterfalls.
The coastal town of Rovinj is another must-see on any Croatia vacation. This romantic city by the sea is known for its vibrantly colored old town houses that are built close together up a hill. You can stroll through the charming streets and explore a labyrinth of narrow alleys to discover hidden squares and a church. If you're looking for some adventure, you can try your hand at rafting in the Cetina River or taste local wines and spirits like biska, a mistletoe brandy.
National Parks
Croatia has more to offer than dreamy beaches and historic towns—it also boasts eight national parks and 11 nature parks with stunningly beautiful landscapes. From waterfalls in dazzling shades of green and blue to untamed mountain ranges where wolves roam, these protected areas are the perfect place to breathe in fresh air and reconnect with nature.
The best-known of all the Croatia national parks is Plitvice Lakes, which consists of 16 interconnected lakes (there are 12 upper and four lower lakes) separated by natural travertine dams that create waterfalls and pools in dazzling hues of green and blue. Often found in travel photos that go viral, this park is a must-see for visitors to the country.
Another of the Croatia national parks worth checking out is Krka, which features fewer waterfalls but is equally as gorgeous. It's also a much smaller park, so it's easier to explore within a day than Plitvice Lakes, which requires about three hours each way when driving from Split.
Another of the lesser-known national parks in Croatia is Risnjak, a mountainous park that's dominated by beech and pine forests and wildflower-filled meadows. Hikers and climbers love the region, which also offers a botanical garden that showcases the plant species of this mountainous area. For something a little more unique, take part in the park's stargazing program, where you'll be driven to a peak and led on a night walk to view the stars above.
Islands
Croatia's coastline is lined with a whopping 1,000 islands, and even if you don't have your own yacht, cruising between them has become an iconic holiday activity. You can book a day trip to many of the best islands, and most are easily accessible by ferry.
The biggest island is Krk, which is a party hub in high season, but there are also quieter corners on the interior. Explore the hiking trails on the island, or visit St Lucy's church near Baska to see one of the oldest inscriptions in the Croatian language. On the shoreline, look out for jaw-droppingly clear waters that draw scuba divers and snorkelers.
Cres Island is a bit off the radar, but it still has plenty to offer. Nature lovers can spot a griffon vulture colony, while history buffs can check out a couple of attractively weather-beaten old settlements in Osor and Cres Town.
Pag is famous for its secluded beaches and Lun's olive gardens, but it's also a great base for cycling. The island has an extensive network of cycle paths, and you can hire E-bikes through the island-wide rental network. Don't miss the chance to try the local snack, pogaca od srdele, a flavourful anchovy pasty. You can also visit a sheep cheese factory to learn about the region's famous produce.